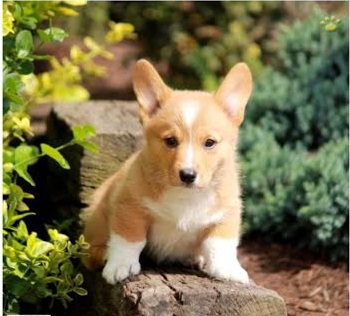 Pembroke Welsh Corgi Puppies for sale in Pennsylvania.
Bucks County, PA close to New York City, New Jersey, Delaware, Philadelphia & Harrisburg PA
AKC registered Pembroke Welsh Corgis. Raised on our small family farm underfoot in our home. We strive to breed super friendly, healthy, corgi puppies with correct conformation and to be wonderful companions! Mom is a red and white Pembroke Welsh Corgi, and dad is a beautiful sable. Please contact us if you are interested in a puppy about an upcoming litter. Next litter of puppies expected fall 2017. Both corgi parents on site and are super healthy, exuberant purebred corgis who just love life! Our little Corgi puppies are family raised with kids and exceptionally well socialized with animals and children and get lots of time playing outside. Fed only the highest quality all natural diet recommended by our UPENN VMD nutritionist/ veterinarian. Absolutely no byproducts or synthetic preservatives- full of healthy antioxidants along with varied raw proteins daily for strong development. Pembroke Welsh Corgis are great pets, live happily in apartments to farms. They are less boisterous and quieter than many breeds. Their short little legs require regular-though far less -exerise, than large dogs - a one mile walk for their short little corgi legs is equivalent to approximately 4 miles for a larger dog. Short jogs and walks up to a mile plus generally keep ours happy along with lots of outdoor free time in a fenced yard. Brave, alert, intelligent and self confidant, Welsh Pembroke Corgis are also affectionate, fun loving, devoted little dogs with huge hearts. Our corgi puppies are well socialized, handled daily with much love and desensitized to virtually everything in our home and outside on our farm from vacuum cleaners, braying donkeys, crowing roosters, lawnmowers, childrens toys etc. Living on a farm , as proven with children, gives them strong immune systems.
Our dogs shine with health, thick soft coats and sparkling eyes that smile the moment they see you while their little tails (whole bottom actually) start wagging to greet you! We absolutely adore our corgis! Please email a bit about yourself and your situation, dog experience and they type of home you would offer a wonderful little corgi puppy.
Email Pembroke Welsh Corgi puppies for sale in PA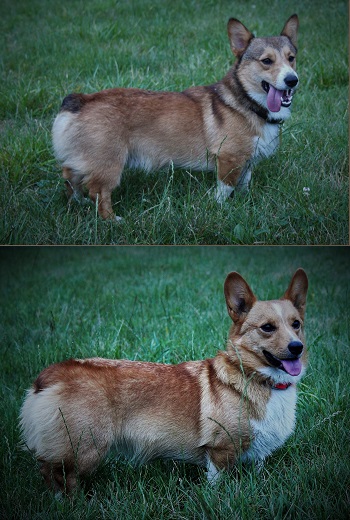 >
AKC registered Pembroke Welsh Corgis- Red & White (mom)- Sable & White (dad)
Regarding the cost of a Corgi puppy - please understand that breeding a carefully planned out litter of dogs is not a cheap or easy undertaking. Our dogs are receive much love, time and top veterinary care. Which is why we can get turned off by emails that start off with "How much is one of your puppies?" or "I am interested in a cheap one". I am not going to charge you $4000 for a puppy but in the same sense if you can't afford more than $800 for a well-bred corgi puppy from a reputable breeder, I would strongly encourage you to reconsider whether a purebred (or any) puppy is right for you, and have to wonder are you financially capable of caring for a puppy? Are you going to go for the cheapest option when your dog has a health issue? Or buy the cheapest dog food filled with fillers and byproducts? We want our puppies to go to the best, most caring and loving homes and to live as healthy, long and wonderful of a life as possible. The cheapest option does not usually provide that. If you feel you'd be a wonderful home to purchase one of our loveable little Pembroke Welsh corgi puppies that please feel free to email us.

Petting Zoo Critters offered for sale:
Katahdin wether Red lamb- bottle raised- very sweet and gentle, naturally polled. Red like a deer with dark tannish legs- $150
2 year old Nigerian Dwarf cinnamon colored wether- bottle raised, excellent with kids- huge sense of humor! Walks on leash and ties out. Disbudded- great pet! $150
White Japanese Silky hens- $25 each
Silky roosters- all colors- $10 each
Pure white Indian Fantail Doves-$25 each- excellent breeders, sit on your shoulder, very tame. Baby bunnies- please contact. Dwarfs and standard. Gentle and hand raised.

Hatch Your Own - Exotic Chicken Eggs! Fertile Chicken Eggs: All colors of Silkie and Frizzle Chickens. $10 a dozen! All animals have been part of Sleepy Hollow Farm's Traveling Petting Zoo Parties in PA and NJ for several years. All animals are very friendly and healthy and would adore to be your family pets.