Children's Ponies for Sale and Lease in Pennsylvania
Fabulous Children's Ponies for sale and lease in Pennsylvania
---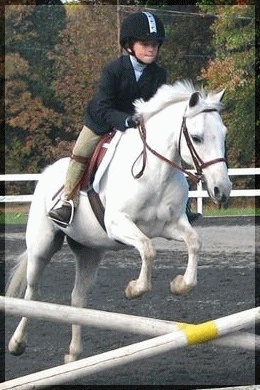 Sleepy Hollow Farm specializes in child safe ponies for sale and is located in Bucks County, Pennsylvania. From quality champion Short Stirrup and Children's Hunter ponies to the backyard pet bombproof beginner retired kids party pony. On occasion a small, medium and large sized children's pony will be offered for sale or lease. Generally these ponies for sale or lease have been used in our farm programs as Short Stirrup Hunter show ponies, Children's ponies, camp ponies, lesson and trail ponies. The ponies for sale or lease usually have also been used in our traveling pony ride parties and farm animal petting zoos in the Pennsylvania and New Jersey area. This means the ponies have been exposed to all kinds of excitement, crowds, loud music, moonbounces, fairs and carnival rides etc and they are an extremely quiet or Bombproof pony for sale. The ponies we offer for sale are also accustomed to being trailered, bathed, braided, cross tied, fly sprayed etc in all types of conditions. We occasionally offer some of the various farm animals from our petting zoo for sale that are seeking homes where they'll be loved just as much as they were at the petting zoos.
Our kids ponies for sale are:
Excellent with children
Trained for what they are advertised as
Reasonably priced
Bombproof and extremely quiet
Honest.
If we have any question about the safety of a pony that we have, we do not offer it for sale. A child's safety is paramount.